Our commitment to service following any sale is second to none. Many people today are concerned with the quality of their Water, and they should be, water is one of the most important things we use every single day. City or well, residential or commercial, Hill Country Water Systems will make sure your family or business has the safest water for whatever you need. We offer quality products and responsive 24-hour service. Our technicians are trained in the maintenance and repair of all makes and models of water treatment equipment so you can feel comfortable knowing you are receiving the best help possible.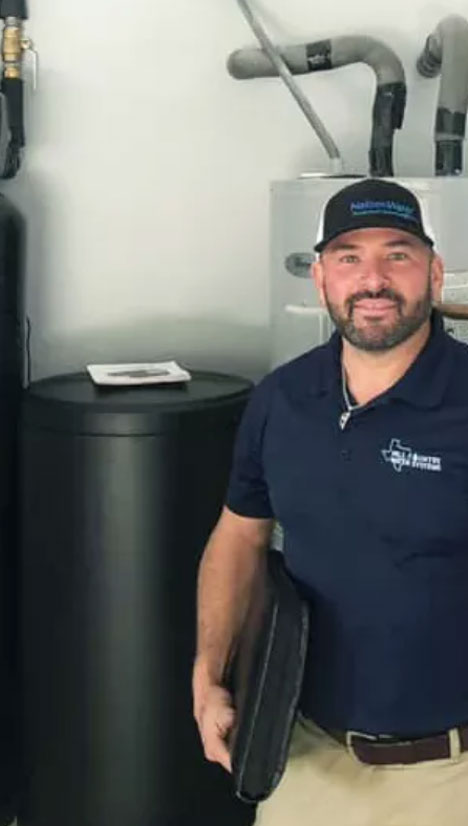 Effectiveness.
We have state of the art equipment custom built to meet your needs.

Value.
Ensures exceptional customer service and warranties to serve you and your family over the years. Easy to Use.
Our user-friendly smart systems are very easy to navigate and access diagnostics reports.
Hill Country Water Systems is a family-owned and operated LLC in New Braunfels, Texas.
Our team specializes in water treatment and filtration, with over 20 years of hands-on experience.
Proudly serving in New Braunfels and surrounding areas for the past 20 years
We had the works installed 2 weeks ago (prefilter, water softener, and reverse osmosis), and WOW! What a difference. The water tastes fantastic, clothes are getting clean without as much soap, skin is not as dry. David and his crew were so knowledgeable, fast, efficient, and nice. Even our dog liked them, especially when David would pick her up and hold her.

Lynne Wickerham


12/05/2019

Had a water system installed today. These guys were great. Explained the system well. No hidden fees. Straight forward. I would recommend them.

Carol Simon


4/21/2020

Wonderful experience! David and his team are knowledgeable and answered every question we had. They were happy to teach us about how their water softeners work and what a reverse osmosis system does. Our water quality is better than ever and we are so glad to be working with Hill Country Water Systems!

Sammy Bug


11/21/2019

David came to our house more than once. He was super patient and answered all my MANY questions. He and Dustin did the install and they were very professional and cleaned up after they were finished. Highly recommend these guys!!!

Tiffany Lenz


4/26/2020

David, Chuck and Dustin are wonderful at their jobs! We moved into our brand new house to find out we had very hard water and they knew just how to fix it. Their customer service is top notch! They are quick to respond to after hour issues and are great at educating you on your system they install and your water. Who knew there was so much to know about water? We HIGHLY recommend using Hill Country Water Systems!

Halie Powell


2/29/2020

Dustin and his team are the BEST! I love my new water softener and osmosis system I never have to clean my sinks or my toilets they're sparkling all the time Justin is always just a phone call away and so prompt in returning phone calls they're the best I would highly recommend them

Mary Ann Crumpton


2/20/2020
Schedule a FREE Water Test and Receive a FREE Quote